Category Archives: Uncategorized
Your Fishing Website Needs To Be Upgraded Every 4 to 5 Years
As a 100% custom web development company for fishing guides, we really enjoy creating products that are proprietary and unique to our clients brand.  In most cases our clients don't really know what they want in a new website, however they know enough to expect us to be ahead of the technology and give them the best in design, coding and digital marketing.  A high level lead generation tool that works 24/7!
Our long time client, Captain James and his wife Lesley came to us years ago with a relatively small budget.  In most cases we can't help customers take shortcuts, but back then we did offer a pretty good "semi-custom" website (not template, hate that word!) that came with the Charter Fishing Business Kit.   These websites are great for those just getting into the business and looking for an affordable option.  You can literally get online for less than $100 using a website our team developed specifically for fishing guides.
Fast forward to today and we try to steer even the tightest of budgets to a 100% custom website.  Why?  Is it because we make more on these?  Absolutely not!  We want all our customers to succeed and to do that it takes the highest level of digital marketing tools.  While the "semi-custom" website will get it done and it has worked for many for years, it lacks originality and the "all-in" feel.  And believe us, your customers can sense it and I believe Google can to!  After all you won't see big major brands such as Apple or Amazon using templates right?!
We have done so many upgrades and studied the results to see if it is worth it for our customers to take on the expense.  The answer is HECK YA!  By upgrading your website  every 4 years on average you are keeping up with technology while staying ahead of the competition.  Do you think all your competitors are going to invest $6-10k into a new website every 5 years?  Probably not.  So why should you?
And for those of our clients that just get it, they are upgrading far more frequently than 5 years.
In the example of Osprey Charters, a ton has changed in the past 5  years.  As a fishing guide, an extremely high percentage of your leads are coming from mobile devices.  And being mobile friendly simply isn't enough anymore.  You need to be 100% responsive.  This means all shapes and sizes will get the same experience (phones, tablets, desktops, etc).
Today, customers are becoming accustomed to long scrolling landing pages.  This means all the information they need is presented on one page rather than clicking around the navigation menu multiple times to find what they are looking for.  On a mobile device this is extremely user friendly as the content flows down the browser.
Developing a long page is not something a web designer can just whim. Our team of designers, coders, business strategist and copywriters, as well as MYSELF all come together to create a wireframe for the best flowing website.  In fact this is the most important part of the project and skipped by 99% of web firms! Knowing your business is always our first step to building an online asset, not just a website.
Without giving away too much secret sauce to our competitors, I want to help you as the fishing guide who may be developing your own site or working with another firm.  These little details are what take a conversion rate from 2% to over 10%.  And when you are spending marketing on digital marketing such as Google Adwords, Facebook Ads, Yelp Ads, etc., a higher than usual conversion rate is what will crush you competitors.
So lets breakdown this tactical and beautiful website recently launched for Osprey Charters in Venice Louisiana.
Upon loading the site, you will notice a beautiful and crisp picture of "Happy Clients".  The big fish is a bonus, but smiling customers always need to be displayed somewhere in the site and we chose the header for this one.  If you haven't read the book, How To Start A Charter Fishing Business, go do that now.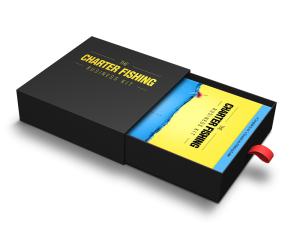 Before you get to the slider picture, you will see a beautiful navigation menu along with a CTA (Call To Action) for a phone number, social media and corporate sponsor (let's show our appreciate to sponsors).

Scrolling down, you have the H1 tag which is very important in SEO Strategy "Fish World Famous Venice Louisiana For Trophy Tuna".  I just love using the words "World Famous".  The conversion rate in our PPC ads is always higher than typical phrases.
Next you will see three columns of well presented text that flows nicely on mobile and desktop.  Customers have the option to click through for more information or to keeping scrolling down which is more optimal.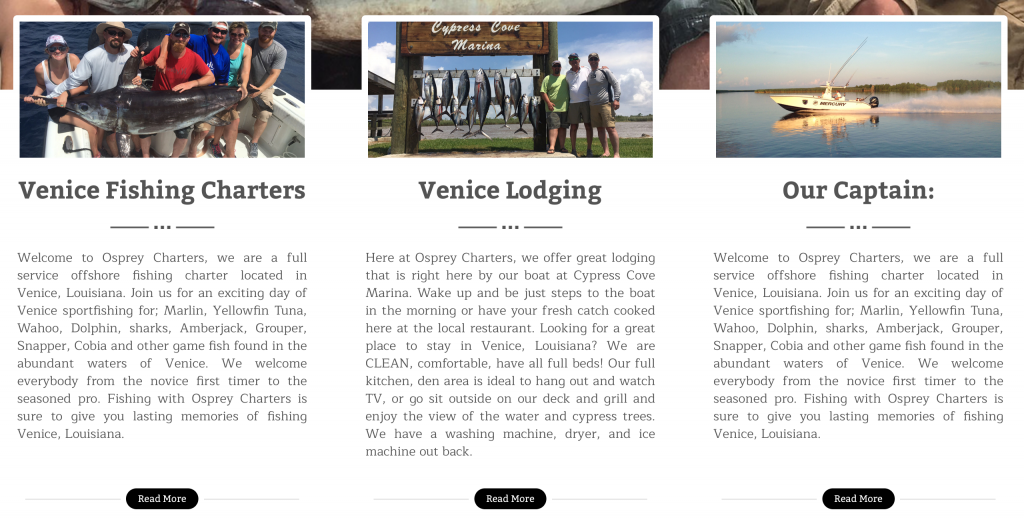 Ok, now we move onto the secret sauce.  The photo gallery on the home page has more than doubled conversion rate.  This isn't just any photo gallery though.  This is your best top ten to twenty photos that customers must scroll through when on a mobile device to get any more information.  Talk about firing up your customers!
And this leads us to the CTA  –  Call Us!  We placed this Call To Action right below the photo gallery because this where is the customer is usually ready to speak to the captain.  However if they are still not convinced we have the extra sauce just for them…

Why us  – With an expanding market place and new fishing guides popping up daily in your area, don't you think it is important to tell customers why they should book you and not them?  In Captain James case,  it is very important his new customers know that he is 100% Full time, Family – Friendly, All Inclusive and the overall right choice.  His repeat customers already know all this.  And that leads us to the next section…
Testimonials!  Nothing sells a fishing charter like other customers bragging about your business.   We have tested the testimonials higher up in the page, however we have found the conversion rate to be better once the customer already has a good idea on whether or not they are going to book you.   This is that last chance effort to get the customer to call or email (lead generation at it's finest).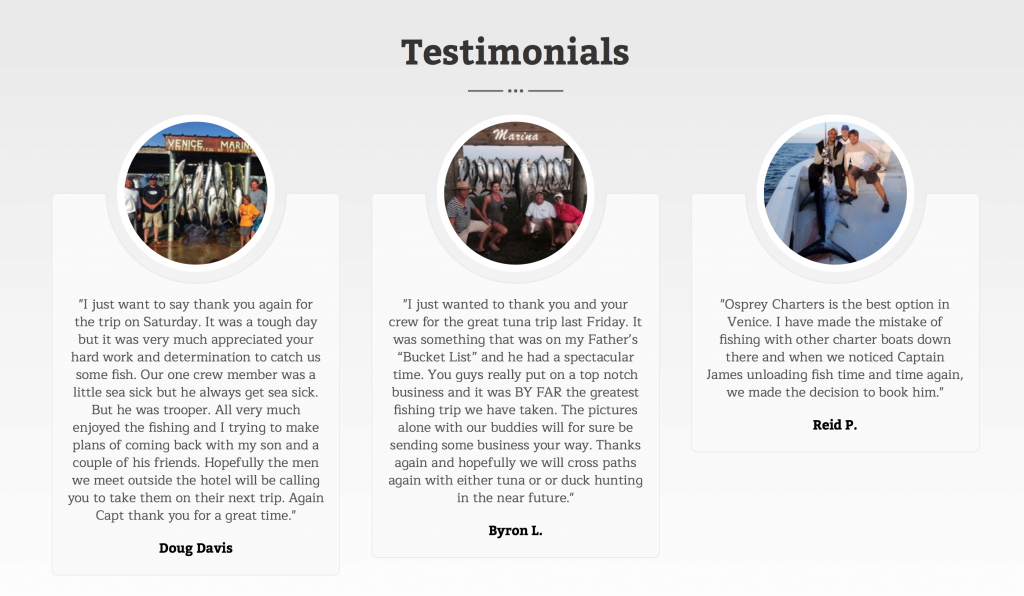 Usually by now the customer has made up their mind.  We don't want to supply them with TOO MUCH information as they won't call and email with their questions. We want them to call with Dates and Credit Cards in hand.   And for this we drop in a contact form as well as links to all the online reputation.
And on to the last, yet very important section: The Footer
The footer of the website is never a slouch. This is where most web designers get lazy, NOT US!  In fact visitors are trained to go right to the footer to look for email addresses and phone numbers, so we want to make sure it is comprehensive.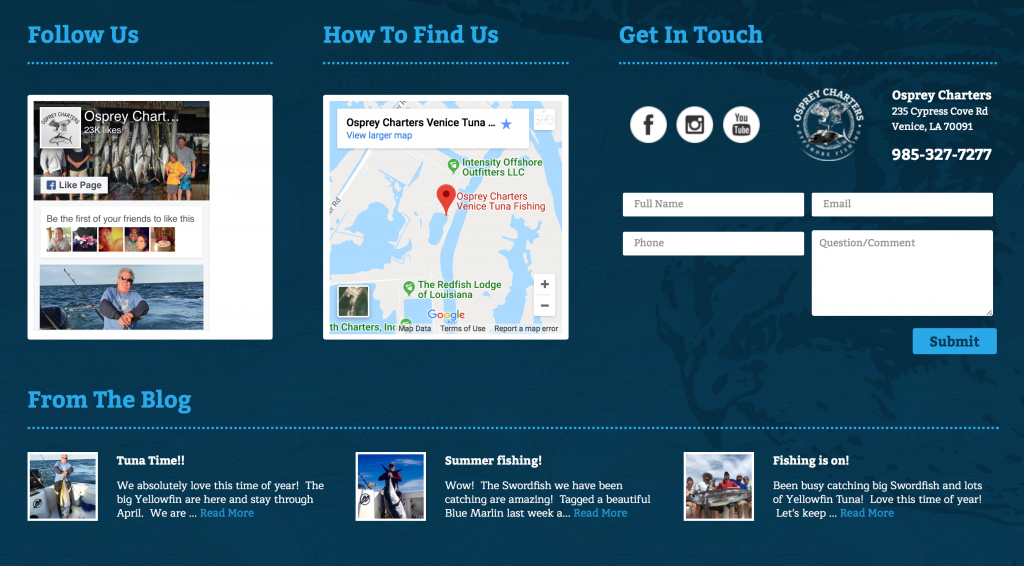 Directions, phone numbers, email form, reputation, and recent blog post are displayed elegantly.    All the information a customer may need in a hurry is right there and then some.
Since launching this new website for Captain James, we have seen an outstanding increase in conversion rate.  The captain let us know he had two shows airing before the expected launch date including one on National Geographic and another on The Outdoor Channel.  So, you guessed it, we stayed in the office overtime to be sure to get this done before those shows aired!
Visit: http://www.ospreycharters.net
If you are looking for a top notch web marketing company for your Fishing Guide business, please give us a call.   We are an ROI driven firm that has developed the best tools fishing guides and the outdoor industry need in maximizing leads from their digital marketing.